Irish Customized License Plate
Irish Licence Plates.
These are real 100% authentic plates made in Ireland which match real plates in every detail.
They make a marvellous novel gift and you can customise your own text to appear on the plate, up to 10 characters.
Irish Customized License Plate Item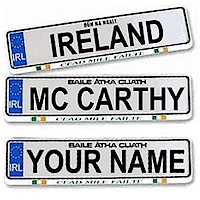 Customized Irish Driving License Plate
Price: $ 34.50
Cusomize your exact metal replica of an Irish Driving Licence Plate. Identical in every way to a...