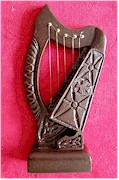 This superb rang of Irish turf products have been handcrafted from carved dried peat turf that is an astonishing 5000 years old. The products themselves are a part of Irish history and come from and Ireland of long ago.
Accordingly the products are specially designed with themes that capture the essence of those ancient times.
Be it one of our wall plaques or a piece of turf jewellery, you are buying an authentic piece of Irish heritage.
Turf Craft Giftware Subsections

Harps
Turf Harps

Turf Plaques
Turf Plaques
Turf Craft Giftware Bestsellers
Made from 1000 year old...
Can be customized to suit...