Kilkenny Marble Jewellery
Kilkenny Marble is a dark limestone unique to Ireland.
This sophisticated and beautiful black stone was formed in the geological tie known as the Carboniferous period and is flecked with paler shades representing the fossilised shelly creates, corals and sea lillies contained therein.
Quarried in Kilkenny in eastern Ireland for hundreds of years it gives Kilkenny City its famous nickname, 'The Marble City'
No two pieces of Kilkenny marble are identical.
Kilkenny Marble Jewellery Item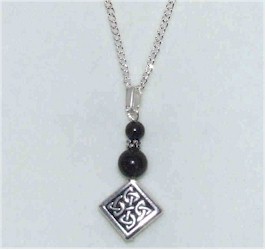 Kilkenny Marble Irish Hand Crafted
Price: $ 35.00
A beautiful set of Drop Earrings handmade by Sue Bowden in Co. Kilkenny in Ireland. This set of...