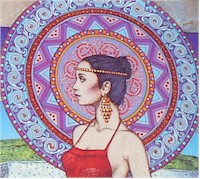 Jim Fitzpatrick is one of Ireland's best know living artists, famous for his Celtic Art and highly individualistic work.
No man in Ireland has a sharper awareness of what we inherit from the ancient past than Jim Fitzpatrick; it has been his inspiration and tutor since, as an eight year old, he was taken on a mystery bus tour, whose secret destination was Newgrange Tumulus.
Not only is he an authority on Irish Celtic Art, his own highly individualistic work, embodies all the Celtic virtues; vivid imagination, love of sumptuous detail harnessed to a breathtaking capacity for taking pains and - most significantly of all - a sense of the mystery that hides behind the material world.
He is the most eloquent Irish poet ever to wield a paintbrush.
Jim Fitzpatrick Items (viewing 1 to 15 of 16)