Rachel Arbuckle - Celtic Art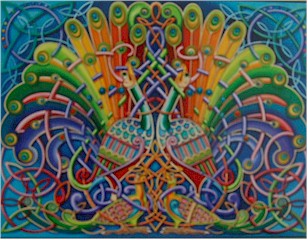 Rachel Arbuckle has ganered international acclaim for her work and her ability to blend modern vibrant colors into her paintings which as inspired by ancient celtic art.
Dublin born artist Rachel Arbuckle graduated from Dublin's National College of Art and Design in 1990. She has always been fascinated by our celtic heritage. Inspiration found in the intricate knotwork adorning the ancient manuscripts, stone and metalwork, coupled with Rachel's love of a good story, have combined to produce some of the most popular images in contemporary Irish Celtic Art.
Mythological warriors rub shoulders with ancient historical figures and intertwine with animals, birds and fish rendered in the artist's unique style. Her colors, though modern, emulate the softness of the natural pigments used by the Celts and a discerning eye will recognise shades of both Tuscany, where Rachel currently lives, and the Beara Peninsula, where she thrives on the west coast of Ireland.
13 Rachel Arbuckle - Celtic Art Items