There are 3 books available, the first features an intricate celtic knotwork design. This traditional design is thought to represent the never ending continuity of life.
The second design is adapted from the Book of Kells. This 'roundels' bookmark features stylised animal outlines intertwined in circular sections which are the 'roundels'.



3 Celtic Stitch Bookmarks Items

Bookmark Celtic Knotwork
Price: $ 14.50
Bookmark - Celtic Knotwork Kit. The Celtic Knotwork Bookmark features a traditional knotwork pattern...

Bookmark Celtic Roundels
Price: $ 14.50
Cross Stitch Bookmark Celtic Roundels Kit - The 'Roundels' Bookmark featuring a colourful and...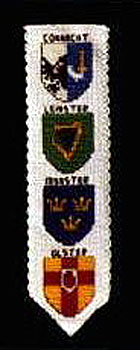 Bookmark Irish Provinces
Price: $ 14.50
Bookmark - Irish Provinces Kit. The Irish Province Bookmark featuring the shields of each of the...