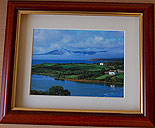 Irish Photography Prints by Liam Blake. Available in mounted or framed formats. Contemporary Irish Landscape and Traditional scenes by one of Irelands most recognised photographers.
Liam Blake was born in Dublin and developed a keen interest in photography at an early age. A award winning photographer, Liam works exclusively in Ireland.
From the 1970's Liam's unique take on Irish landscapes, people and traditions featured on postcards.
This new collection features some of Liams recent contemporary Irish photography.
Liam Blake Photography Items (viewing 1 to 15 of 41)