We are delighted to present a selection of old and new framed Irish coins and bank notes sets covering the history of coinage and bank notes since the foundation of the state to the new Euro currency.
Prior to independence Ireland was pegged to sterling although Irish coins have been minted since as early as AD 995.
The state of Ireland has been issuing its own currency since 1928.
Pre-decimal coins and notes were issued until 1971 when decimal currency was introduced.
Since Jan 1, 2002 Ireland has adapted the Euro currency.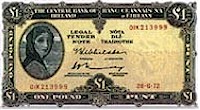 Irish Coins & Bank Notes Subsections
Latest Items in Irish Coins & Bank Notes