Irish Road Signs & Plates
Antique style Irish road signs & customized Irish driving license plates. Handcrafted here in Ireland, these bring back some great memories of the Emerald Isle.
The Irish road signs are faithful reproductions of the old Irish road signs that every Irish person and visitor to Ireland remembers. The customized license plates are produced to the exact specification of real Irish EU license plates.
They make a perfect gift for the home, office or pub. Bring a little bit of Ireland into your life !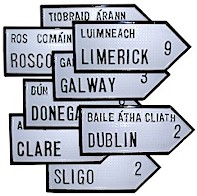 Irish Road Signs & Plates Subsections
Latest Items in Irish Road Signs & Plates