Hurling is in fact the national sport of Ireland and dates from ancient times. Camogie is another version of hurling played by women
Gaelic Football is the most widely played sport in Ireland.
The highlight of the calendar year is the All-Ireland football and hurling finals held each September in Croke Park, the home of the GAA and one of the finest sports stadiums in the world.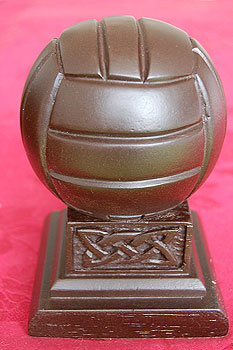 O'Neills Gaelic Football Turf Plaque
Price: $ 42.50
Irish GAA Gaelic Fooball Turf statuette. O'Neills Football. Made in Ireland from turf that is over...