The folk or celtic harp is an ancient musical instrument designed for traditional music. The harp image has also been used as a political symbol for Ireland for centuries. Today it is the national symbol for Ireland and appears on Irish coinage dating from the Middle Ages through to the new Euro currency.

These handcrafted Irish Harp pieces are made from 5000 year old Irish turf.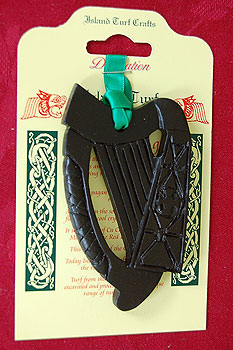 Irish Harp Turf 3.5"
Price: $ 16.50
Small handcrafted Irish turf decorative piece. Handcrafted in Ireland from 5000 year old Irish Turf...